Disposable Medical Isolation Gowns
New York's #1 Domestic Manufacturer of Disposable Isolation Gowns
What Are Isolation Gowns?
Gowns are identified as the second-most-used piece of PPE, following gloves, in the healthcare setting. According to the Centers for Disease Control and Prevention's Guideline for Isolation Precautions, isolation gowns should be worn to protect Health Care Worker's arms and exposed body areas during procedures and patient-care activities when anticipating contact with clothing, blood, bodily fluids, secretions and excretions. Isolation gowns currently available on the marketplace offer varying resistance to blood and other bodily fluids depending on the type of the material, its impermeability, and wear and tear. While some studies show no benefit of the routine use of isolation gowns, others demonstrate that its use is associated with a reduced infection rate.
We successfully mass-produced over 1-million fully compliant medical isolation gowns for the state of New York during the pandemic and are currently accepting contracts.
*Congresswoman Nicole Malliotakis's Website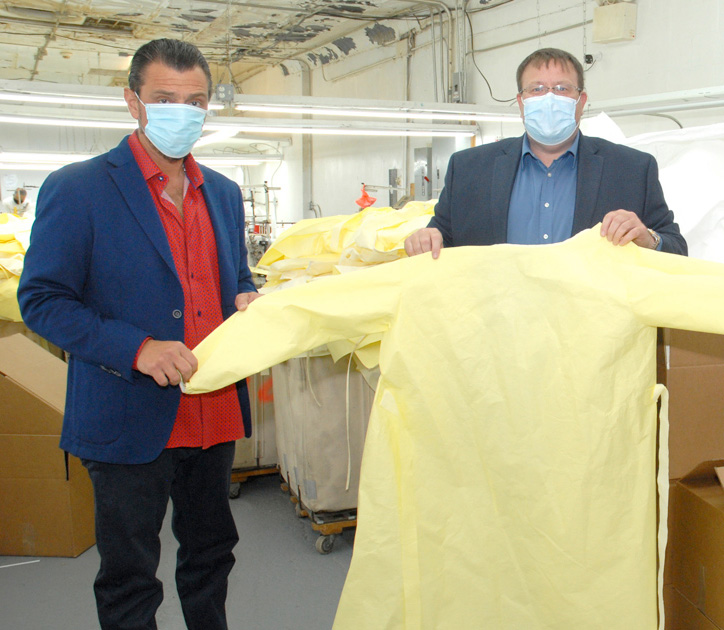 How is Top Notch Involved?
In response to the COVID-19 pandemic, we are producing disposable isolation gowns for First Responders and Healthcare Workers. If you are unfamiliar with the type of isolation PPE that's right for you, refer to the CDC's guidelines.
Top Notch Pattern is working with the State of New York to produce and manufacturer isolation gowns for first care responders. We are collaborating with healthcare professionals to manufacturer CDC approved gowns that can be disposed after initial usage in order to protect HCWs from potential COVID-19 exposure . 

In the United States, more than 18 million people work in the healthcare field. There is an increasing concern among healthcare workers (HCWs) over the potential exposure of COVID-19. Due to the shortage of isolation gowns across the country and available for these First Responders, we are utilizing our production capabilities and network of professional manufacturers to help relieve the stress of keeping the medical facilities supplied with the proper gear to treat patients.